Details
用途 Usage
Return "U"-shaped bending machine is suitable for copper or thin-wall a-alloy pipe to straighten, cut and bend the pipe into "U" shape.
特点 Features
High efficiency: It is used with preumatic clmping to feed. The feeding is precision. It is used with high-speed saw to cut off copper tube It is also used with hydraulic motor to drve to bend. The angle of bending is precision and the run of the equipment is stable



Easy operation: It is used with PLC to cntrol and also used with touching screen to set parameter automatically. The program is very easy and you ca oly use one seitch to complete the whole opeeration.



Dependable property: The whole machine is used with import components and te protecting function is perfect.



Good adaptablity: Different beding dies can be changed to meet various requirements.
产成品 Finished-part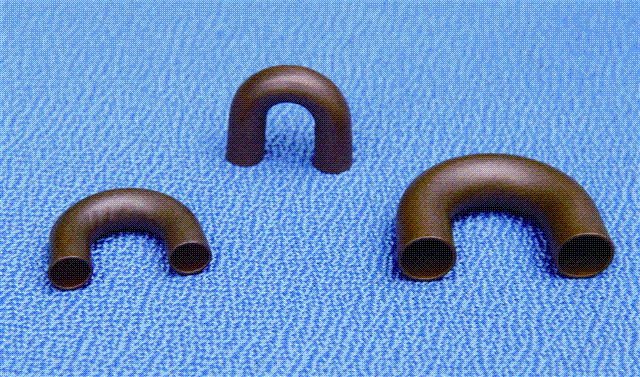 技术参数 technical specification
Model

XUZW-5

Specification of copper tube

φ7(wall thickness 0.25-0.5mm)

φ9.52(wall thickness 0.25-0.5mm)

Center distance of bending

φ7 (15.88-22mm)

φ9.52 (19.05-25.4mm)

Number of copper tube

3-5 radix

Bending speed

≤ 7s (per cycle )

Precision of center distance of U shape

± 0.1mm

Ellipticity of bending part

‹ 15%

Reducing rate of wall of bending part

‹ 35%

Model of control

Manual , jog , automatic

Work voltage

AC380V

Air pressure rate

0.3-0.5 Mpa